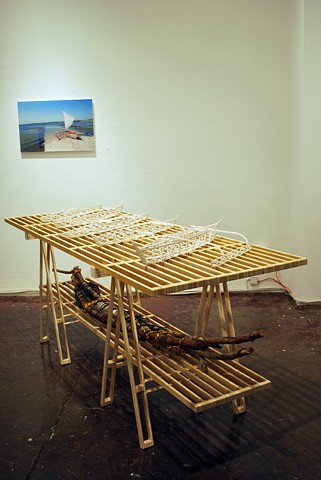 Lexical Borrowing: Saw Horse by the Sea Shore- Understanding Manifest Destiny
2011
Mat board, wood, found plastic bottles, river water, and mixed media
4' x 7' x 3'
This work describes lexical borrowing through the transformation of an American kayak into a Pacific outrigger canoe. Lexical borrowing is a linguistic process that contribute to the generation and changes in languages- a process that is essential for generating Pidgin and Creole languages. The structure, saw horses and table tops, obscures the boat models and the makeshift outrigger, suggesting instability and constant shift.
At the base of the saw horses is a make-shift outrigger that was made on the James River, VA. During an extremely rough tidal event, we fashioned this pontoon onto the American canoe- inspired by Baby, the Pacific outrigger canoe. This object is a material analog of how linguistic shifts occur.